World's First PGP in Enterprise Mobility
'You can work on the world's most important problems, with access everywhere in the world to everything', - Virginia Rometty, CEO, IBM
The world is mobile. According to a recent study undertaken by IDC, more than 1.19 billion workers, 34.9% of the global workforce, will be using mobile technology by 2013.
The mobile ecosystem continues to expand at warp speed. Enterprise Mobility must be defined as business critical, as it is changing the way of doing business. It is now vital to be able to handle critical tasks and make informed decisions in real time and space.
Anticipating the rising demand for educated professionals, Aegis School of Business & Telecommunication, with the support of CanvasM and Adobe, has launched the world's first PGP/MS in Enterprise Mobility.
Aegis Enterprise Mobility Programs are designed to provide students with the knowledge of the latest advancement of mobility in the workplace and to enable them independently identify risks and benefits of Enterprise Mobility and implement this knowledge to the advantage of an organisation.
Why Enterprise Mobility?
Benefits of enterprise mobility span the business-to-employee (B2E), business-to-business (B2B) and business-to-consumer (B2C) spectrums. Enterprise mobility can improve an organization's productivity, optimize logistics operations, enhance customer relationships and streamline supply chain management.
- Innovation in Business Models & Processes
- Higher Workforce Productivity
- Increased win rates with mobile access to real-time customer data
- Faster, more informed decisions at the point of action
- Better, more responsive customer service
- Accellerated Sales Cycles
- More flexible, agile, and accurate forecasting
Enterprise Mobility enables workforce to have instant access to information through mobile applications anywhere, anytime. People are fundamentally changing the way they work, and in order to remain competitive, organisations are making enterprise applications accessible through mobile devices.
Download PGP in Enterprise Mobility Brochure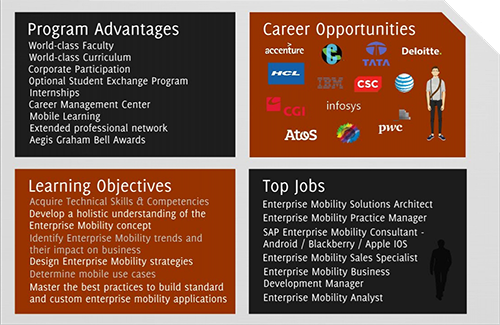 Programs:
Graduate Certificate in Enterprise Mobility
- Total Program: 21 credit Units
- Program Duration: 3 months
- Weekend classes
Full Time PGP in Enterprise Mobility
- Total Program: 45 credit Units
- Core courses: 39 credit unit
- Elective courses: 6credit unit
- Program Duration: 11 months
- 9 months of Class room training
- 3 terms each of 3 months
- 2 months of Internships
Part Time Executive Program in Hybrid model
- Total Program: 36 credit Units
- Core courses: 30 credit unit
- Elective courses: 6credit unit **
- Program Duration: 11 Months
- One Block of 5 daysin every 3 months plus alternate Sunday online class spread over 11 months.
- 3 block week of 5 days in the interval of 4 months spread across the year on campus class room training + live streaming video lectures on alternate Sundays.
Please send your Resume to admission@aegisedu.org
Call 022-32185553 / 9819008153
For more information: www.aegis.edu.in