Tenecia Sicard
Dual MBA/ PGP 06, Aegis
BS, Stanford University, US Internship with Reliance infocom
She was offered special package in India, by Ernst & Young. Currently she is working with Clinton Foundation in US.
Dr. John. L. Selman,
Vice Provost and Dean --, speaking on MoU signed between Aegis & Schiller in Mumbai, India.
click on the image to view video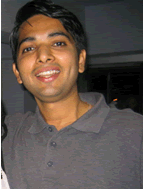 Jigar Patel
Dual Program MPTM and MBA 06, B.E in Electronics & Telecom Mumbai University
4 years of work experince at ECI Telecom India and Tata Teleservices Ltd.
Internship and Final placement at Reliance Infocom in Mumbai, India.
Anne Villanueva
PGP/MBA 2007-08
BSc, St Paul Univ Manila ,Philipines
Work Exp. 2 yrs in Real Estate
click on the image to view video
Mr. G Kumar,
CTO Reliance Infocom speaking on
"What Recruiters Wants"
click on the image to view video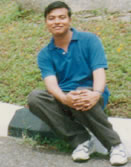 Devasis Das
MPTM 2002-03
Orisa, India
BE, Utkal University
Manager in Airtel Bhuwneshwar

Dear Candidate

We got your reference through World MBA Tour (WMT). I am glad that you took the first right step towards choosing a great career by attending WMT. We are happy to announce that Aegis is offering application fee waver of INR 2000/ US$40 for all World MBA Tour and World Graduate Tour participants. Aegis School of Business & Telecommunication is currently recruiting candidates for the Mid March 09-10 and August 09-10 session for one year Telecom Management and one year PGP/ MBA program with scholarships and financial aid. Aegis is rated among top three telecom management programs and top five one year MBA/PGP programs in India.
One Year PGP/MBA is designed for self motivated high performance individuals having substantial real life experience.
One year Masters in Telecommunication Management Program (MPTM) ) is designed for developing telecom mangers. It was started in 2002 with support from Bharti Airtel, India's largest telecom operator. MPTM is also known as MBA Telecom or MS in Telecom Management.

(work experience not mandatory)

.
Aegis Advantages:
Next Step:
View our web site, talk to Aegis admission team and students. Download application from http://www.aegisedu.org/how_apply.htm
While applying provide reference of World MBA Tour for application waver


Important Dates:
Spring session commencing from 15 of March 09. Registration starting on 20 Feb 09
Fall session starting on 20 August.
Application for admission and scholarship is on rolling basis.

Feel free to get in touch with admissions office, We will be glad to answer your queries.

Sarika Gupta
Director - Admissions & Financial Aid
Aegis School of Business & School of Telecommunication
(Former Head - Executive Education IIM Indore)
Phone: +91 22 67122726,32185553
Mobile: +91 (0) 932 252 5977
Email: [email protected]
Web: www.aegisedu.org

Admissions Processing Office
Aegis School of Business
Mahesh, Plot No.37, Sector 15, CBD, Belapur
Navi Mumbai 400614
Email: [email protected]

Important Web links:
V. P. Chandan
Director, Aegis
Consultant, World Bank
Former President, Qualcomm India

"There is huge growth in telecom in India, We need telecom managers and we must rise to this challenge. Either India develops and educates an adequate number of trained telecom managers or India has no future."

Excerpt from a panel discussion titled "Future Belongs to Telecommunication Managers" at India International Center, New Delhi
Thor Hendrickson
Former Dean, Aegis,
MBA London Business School(LBS), BS MIT(USA)
click on the image to view video on one year MBA by Thor
"A guide to pick your kind of MBA"
By Thor Hendrickson,
Economics Times
"Imagine buying a brand new car. The salesperson offers you a choice of 15 models. When you ask what are the differences between the models, he responds, "Well, just the name. And of course the price."
A similar dilemma faces applicants to business programmes in India . "
click here to view the entire article

Pradeep Giri MPTM 2006-07
Joined MBA at Schiller Florida campus under Aegis- Schiller credit transfer arrangement in Jan 2007, after studying one semester of MPTM at Aegis Mumbai.

Vidyadhar Prabhudesai
PGP/MBA 2007-08
Coordinator, Aegis Entrepreneur Challenge, A Global B-Plan Competition
4 years work experience with HP
click on the image to view video