India's First PGP in Business Analytics and Big Data

'By 2018, there will be a shortage of 1.5 million analysts/managers who can make data-driven decisions', - McKinsey Global Institute's report on Big Data
Students who earn a degree in Business Analytics and Big Data develop deep quantitative capabilities and technical expertise due to create business and social value by extracting useful insights and applying them in a variety of career settings.
All the information that existed before 2003, we generate in 2 days today - a remarkable fact that signifies the beginning of a true information society.
In a global and highly interconnected world we live in, the one greatest power is the right information. Business analytics is thus the primary tool for any organisation to seek for competitive advantage and optimisation of the existing ecosystem. A career in Business Analytics & Big Data would promise a lot of challenge, opportunity, and reward.
Business analytics is the science of translating vast amounts of complex data into clear, manageable information used to make sound decisions. The technique of business analytics borrows from a variety of fields, including:
- Operations research
- Statistics
- Information systems
- Machine learning and computer science

PGP/MS in Business Analytics and Big Data
PGP/MS in Business Analytics & Big Data (BA & BD) program provides study of organizational decision-making process under dynamic global business environment. The program integrates knowledge of applied mathematics using quantitative techniques and computer techniques to optimize decision-making in business.
This program is designed to be completed in eleven months and the courses are scheduled to meet the needs of working professionals. This highly intense and competitive program offers students the opportunity to work on data sets arranged with corporate and faculty support.
Download Aegis Business Analytics and Big Data Brochure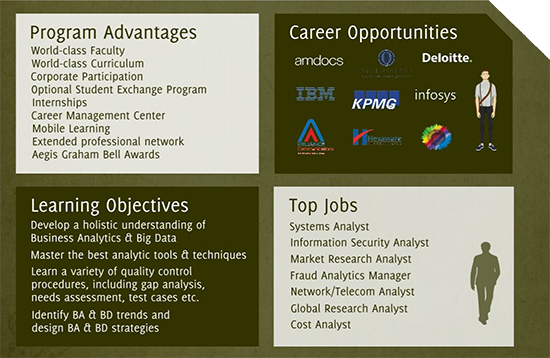 Who should attend?
- Candidates aspiring to make a career as Business Analysts
- Fresh Engineers and MBA students
- IT and Telecom Managers
- Business Executives or Process Managers
- Business or Technical Systems Analysts
- Product Managers or Product owners
- Enterprise Analysts
- Business Architects
- Management Consultants

From below industries


- Medical & Healthcare
- Banking & Finance
- Energy & Utilities
- Government bodies and Associations
- Manufacturing
- Wholesale & Retail Trading
- IT and Software
- Telecommunications & Media
Program Structure:
Graduate Certificate Course
- Total Program: 21 Credit Units
- Program Duration: 3 months
- Weekend classes
Full Time Post Graduation Program
- Total Program: 36 Credit Units
- Core courses: 30 Credit Units
- Elective courses: 6 Credit Units
- Program Duration: 11 months
- 9 months of Class room training
- 3 terms each of 3 months
- 2 months of Internships
Part Time Executive Program in Hybrid model
- Total Program: 36 Credit Units
- Core courses: 30 Credit Units
- Elective courses: 6 Credit Units **
- Program Duration: 11 Months
- One Block of 5 days in every 3 months plus alternate Sunday online classes spread over 11 months
- 3 block weeks of 5 days in the interval of 4 months spread across the year on campus class room training + live streaming video lectures on alternate Sundays
Eligibility Criteria
- Graduates in BE /BTech/BSc (IT/CS), BCA, MCA, minimum 60% marks. Aegis accepts the following test scores: GRE, TOEFL (ETS Code: 5730) GMAT, CAT, XAT, MAT.
- Knowledge of programming languages such as C, C++, Java, HTML, as well as experience in using statistical packages and statistical software programs is advantageous.
For Admissions:
Please send your Resume to [email protected]
Call 022-32185553 / 9819008153
For more information: www.aegis.edu.in