Two Year MBA in Telecom Management + Masters Program in Telecommunication Management (MPTM) Banglore Campus
V. P. Chandan, Director, Aegis
Director, Punjab Communications
Consultant, World Bank
Former President, Qualcomm India
x
The Bangalore campus of Aegis is established in the year 2010 as an extension of Aegis School of Business and Telecommunications, Mumbai. The Bangalore campus is established to cater to the growing educational needs of the students and professionals from across India. Aegis School of Business, Bangalore is joint initiative of Aegis School of Business run by Aegis Knowledge Trust and Foundation of Advanced Research and Education (FARE). FARE is an approved Partner Institution of Bharathiar University, Coimbatore which was established by the Government of Tamil Nadu in February, 1982 under the provisions of Bharathiar University Act, 1981.
The collaborative initiative is structured by signing MoU between Bharathiar University, Coimbatore and FARE to offer various courses (U.G., P.G., PG Diploma, Diploma and Certificate courses) offered at the available / adequate facilities of FARE at Bangalore. All the students admitted to MBA, PG Diploma Programs offered by us will be the bonafide students of Bharathiar University.
Academic Alliance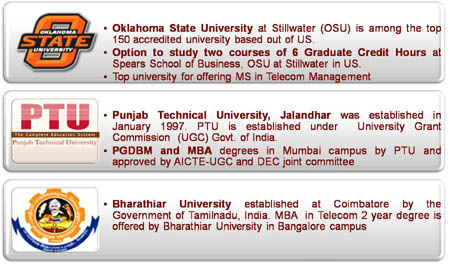 Aegis
Key learning: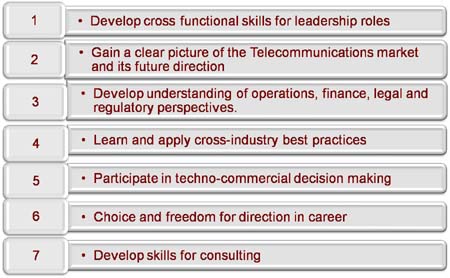 Sample compnies where Aegis students are employed
Program Details
Masters Program in Telecom Management (MPTM)/
MBA in Telecom Management.
This is a Two year (Full Time) Dual Certification Program which is designed to develop cross functional and leadership skills amongst students and equip them with expertise, proficiency and capabilities pertaining to the telecom industry by imparting Globally recognized course content under Masters Program in Telecom Management (MPTM) and qualifying them through the academically enriched MBA program from a Government recognized University.
Program Overview
Students joining this course not only undergo the University prescribed course curriculum but also a host of Electives pertaining to the telecom industry. They undergo intensive industry oriented training in the various management/business functions and take part in live projects and research giving them an opportunity to experience first-hand even before graduating. Owing to the unique composition of faculties drawn primarily from the community with experience in the telecom industry, students also get the exposure of the trends and the real life simulations of telecom market.
Course Duration : Two Years
Academic Alliance : Oklahoma State University and Punjab Technical University.
Program Highlights
Highly specialized coursed content focused on Telecom Management. Course content is designed with the inputs from the Industry leaders and the academia with prior expertise in the telecom field
Best faculty from across the World; 20% of lectures are delivered by international faculty
Faculty drawn from the Telecom Industry to give real life simulations and trends
Dual Certification Program (the only one of its kind in Telecom Management in India): MPTM and MBA from Government Recognized University.
MPTM is designed in the lines of 'Globally accepted credit hours' based model
Eligible for Two Week Exchange Program to Obtain 6 Graduate Credit Hours in Telecommunications Program at Spears School of Business at Oklahoma State University (OSU) in US (Not Included in the fee structure)
India's education Thought Leaders
Leadership speakers series of top telecom leaders
Successful completion of EMPTM enables PhD admission in international universities
Case Studies from telecom industry
Small class size to enable better learning and exposure to the teachings
Develop cross-functional skills for leadership roles
Designed to meet the needs of global business
Live Projects and research opportunities in the telecom industry
Mandatory Internship programs leading to placements (subject to the student's ability to deliver as per the Internship company's expectations)
Mentors for individual students drawn from the academia/industry to guide the students during the entire course program about the program, career choices and tracking their goals
Virtual Classrooms with unique web page for each student with the Uploads of all the popular lectures of the professors.
Aegis MPTM
The program is developed with the help of corporate managers and human resource directors of leading telecom firms like Qualcomm, Bharti, Reliance Communication, Nortel, , etc. to meet the needs of India's future telecom leaders.
Program Schedule
The program is a full time program with details of the start dates of each semester being stated below:
First Semester 1st September
Second Semester 1st February
Third Semester 1st July
Fourth Semester 1st January
Semester Exam Dates will be shared on Joining.
Pedagogy
The pedagogy will be highly interactive taking advantage of technology. The program will be a judicious blend of lectures, real life case studies, quizzes, online tests, assignments etc.
Class Timings
Weekdays : 10:00 am - 5:00 pm (Full day)
Saturday : 10:00 am - 12:00 pm
Curriculum Input Providers
| | | | | |
| --- | --- | --- | --- | --- |
| Wipro | Reliance | Ericsson | ZTE | Avaya |
| BSNL | Vodafone | Alcatel Lucent | Bain & Company | Amdocs |
| ORACLE | Accenture | Infosys | Qualcomm | TCS |
| CapGemini | GTL | CISCO | Siemens | Huawei |
Program Fee Structure
Course Fee
INR 5 Lac (Rs. 500,000/-) for the full course duration
Fee include the following
University Registrations and Fees
Laptop computer
Hostel Accommodation for the 1st Year (Twin Sharing)
Course material and Tuition Fees.
Fee Structure and Payment Details
Seat Blocking Rs 35,000/- (Non Refundable Fee)
Joining Fee Rs 200,000 (includes University fee, Laptop and 1st yr Hostel fee)
2nd Semester Rs 100,000/-
3rd Semester Rs 100,000/-
4th Semester Rs 65,000/-
Scholarships
Aegis is committed to hunt the best brains and edifying their careers. We believe that no high caliber individual should be deprived of opportunities due to lack of financial resources.
Alexander Graham Bell Scholarship from Aegis School of Business.
Merit Scholarships for eligible students provided by the industry for Needy and Merit Students.
Five (5) students in each batch are eligible for waiver of the entire 2nd year Tuition fee based on their merit, performances and conduct in the first year as well as their conduct in the first year.
Educational Loans
Most of the Indian Banks give loans for Aegis Program
HDFC Credila Finance for education loan
MPTM Curriculum
(Please refer to the FARE website www.fareindia.org) Include the electives from Aegis program.
blend of lectures, real life case studies, quizzes, online tests, assignments etc.
Delivery Tools and Training methodology
Classroom training
Group work
Field Work
Case studies
Presentations
Role play
Streaming Video/ Audio lectures through Internet
e-books
Lab (lab exposure with Lab Partner MTNL )
Online chat
Telephonic discussion with faculty
Online seminars/ web cast
Admission and Eligibility
Eligibility Criteria:
Graduates in any discipline with 60% marks
Executives working in the field of Telecom / IT for more than 2 years can apply where criteria 1 is not applicable
Application Process - Overview
Download the application form from www.aegisedu.org/applybangalore.htm
Send the completed application form along with two References, Application Processing Fee of Rs. 1000/- or submit at the event day at various cities as DD, CV, Transcripts & Certificates and Letter of Employment by post or email to

[email protected]

Admission offer to short listed candidates
Offer acceptance & Registration
For Counseling and Guidance (you can use any of the options below to contact us)
Write a mail to

[email protected]

Call at the following number or leave SMS

+91-99027-11228
+91-99017-11228

Or Call at the TOLL FREE number of 1800-10-AEGIS [ 1800-10-23447 ] (can be called from mobile and land line also)
Career Management Center
We measure our success by your success. Our on-campus career services are dedicated to opening doors for you. Our past experience, strong faculty and network with corporate will help achieve the best career opportunities for our students. Aegis alumni are employed with companies like The Clinton Foundation, Uninor, Ernst & Young, Bharti -Airtel, Tata Communications, Reliance Communications, Vodafone, Idea, VSNL, GTL, 3D Network, Spanco Telecom, Nortel, Ericsson, Nokia, Cisco, Siemens, HSBC, Leadcap Ventures, Alcatel Lucent, Avaya, Org Telecom, ZTE, Huawei, Nokia Siemens Networks, TCS, Wipro, Orange, HCL, Uninor, etc.
If you wish to speak to Aegis alumni or current students about their experiences, please email your request for their contact details to [email protected].
Live Consultancy Work
Aegis works closely with the industry to make its candidates better their understanding of business intricacies. To accomplish this, we enable Live Consultancy Projects for candidates within their existing organization, as a part of the course. This achieves two critical objectives – the organization benefits from the candidate's new-found knowledge and skills, while the candidate gets hands-on experience of implementing skills learnt during the MPTM course. Of course, the candidate's efforts within the organization during this project work also stand a fair chance of review and appraisal for the candidate.
Aegis Advantage
Based at Bangalore, which is the cradle of technology in India, we strive and aspire to produce the finest students of Telecom management
Consulting Business School and Finest teaching
We are a truly global consulting Business & Telecommunication Management School. We have the right mix of top academicians, practitioners, telecom leaders and first generation entrepreneurs as our professors.
Dual Certification Program with MBA in Telecom Management
Candidates can undergo dual certification of Aegis MPTM and 2 year full time MBA degree from a Govt. recognized university.
Top B-School in Telecom Management
Aegis is among the top three schools offering Telecom Management Programs in India, and among only 23 universities offering Telecom programs in the world.
Faculty
Faculty drawn from across the World; 20% of lectures are delivered by international faculty. Faculty drawn from the Telecom Industry to give real life simulations and trends
International Academic Association with Oklahoma State University
Under academic association with Spears School of Business at Oklahoma State University (OSU), Aegis students can also undergo part of their study at OSU in Stillwater campus in US.
Global Corporate Connections inputs
The Aegis MPTM program was developed to create Future Leaders with the help of top firms such as Reliance Infocom, Bain, Bharti - Airtel, Nortel, Cisco, Oracle, Accenture, Boston Consulting Group (BCG), Ernst & Young, Deloitte Consulting, etc.
Interdisciplinary Program
The MBA in Telecom Management is an interdisciplinary program designed to give you the skills necessary to manage telecommunications networks, including data, video and voice networks. Telecom Management students understand the legacy telecom network as well as the modern IP network.
Placement, Live Consulting assignments & internships
Some of the top firms that have employed Aegis alumni are: The Clinton Foundation, Ernst & Young, Bharti - Airtel, Tata Communications, Tata Indicom, Reliance Communications, Vodafone, Idea, VSNL, GTL, Nortel, Ericsson, Nokia, Cisco, Siemens, Leadcap Ventures, Alcatel Lucent, Avaya, Org Telecom, ZTE, Huawei, Nokia Siemens Networks, TCS, Wipro, Orange, HCL, Uninor, etc.
Global Credit Hours System
MPTM Program is designed in the lines of globally accepted Credit Hr-based model. Aegis MPTM / MBA/ MS in Telecom Management is structured keeping in mind the credits hrs program equivalent to any internationally recognized Master's Degree.
Learning management System (LMS)
LMS is designed manage the learning at Aegis. It helps candidates to access the lecture on demand at their convenience. Full access is provided on campus via the school's intranet as well as internet. The resource consists of all the study materials in PPT, Word and html format. Streaming audio and video lectures integrated with PPT of live class room lectures are available on LMS.
Small Class Size
At Aegis you do not study in large classes that you are lost and faculties do not know your name. Researchers have found that gains in achievement are multiplied generally when class size is less than 75 students. At Aegis, the small class size facilitates both a collaborative and discussion-oriented classroom atmosphere and strengthens your relationship with faculty and peers.
Sample Students profile:
Contact Us
Ekta Jaisingh
Asst. Manager Admissions
Cell: +91-9611165231
Phone: +91 - 80-42747015
Email: ekt[email protected]
Vani.S
Asst. Manager, Admissions
Cell: +91-9902711228
Landline: +91 - 80-42747013
Email : [email protected]
Toll Free 1800-10-AEGIS [ 1800-10-23447 ]

Aegis School of Business & Telecommunications
(Foundation of Advanced Research and Education)
Vinayaka Towers. # 330/11, Domlur Layout.
BBMP Ward 72. Intermediate Ring Road. Domlur.
Bangalore. Karnataka- 560071. INDIA