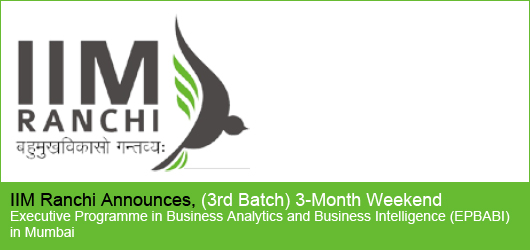 IIM Ranchi Announces a 3-Month Weekend Program in Business Analytics & Business Intelligence (EPBABI)
Business Analytics is the study of data through statistical and operations analysis, the formation of predictive models, application of optimization techniques and the communication of these results to customers, business partners and colleague executives.
During this course you will build leadership skills beyond what you thought possible and gain access to the most extraordinary leadership network in the world
Business analytics is the science of translating vast amounts of complex data into clear, manageable information used to make sound decisions. The technique of business analytics borrows from a variety of fields, including:
Operations research
Statistics
Information systems
Machine learning and computer science
Download IIM Ranchi Announces 3-Month Weekend (EPBABI) Brochure
Programs:
Who should attend?
The business analytics and business intelligence executive programme will equip the participants with analytical tools and prepare them for corporate roles in analytics based consulting in
Marketing
Operations
Supply chain management
Finance
Insurance and risk management
General management in various industries like the hospitality and health care sectors
The course is suitable for those who are already working in analytics to enhance their knowledge as well as for those with analytical aptitude and would like to start new career in analytics.
*****The faculty members are from IIM / IIT/ NITIE

Career Opportunities:
System Analyst
Information Security Analyst (end-to-end S/f solutions & services in Banking, Energy sector)
Market research Analyst (Preparation of end-user surveys)
Fraud Analytics Manger (Building of Fraud analytics projects)
Network/Telecom Analyst
Analyst Global Research
Cost Analyst

Program Module:
Classes will be conducted in the weekends (SAT & SUN) in Mumbai at Aegis and in addition to these, there will be one-week learning in IIM Ranchi.
While staying in Ranchi for one-week learning, the students will be provided accommodation by IIM Ranchi.
Project:
Students are expected to do a live project as part of this course. The project report should be submitted by certain deadline. The projects will be supervised by a faculty member.
Award of Certificate:
A certificate of completion will be awarded by IIM Ranchi to the participants at the end of the programme upon successful completion of the programme satisfying the programme requirements.
Eligibility Criteria:
Under Graduation/ Post Graduation in any discipline with at least one subject on Mathematics/Statistics/Operations Research/ or any other quantitative subject, candidates with work experience will be given preference.
Evaluation:
The participants will be evaluated through take-home assignments and a written examination. At the end of each module, the participants will be given a take-home assignment that should be completed and submitted within 2 weeks
Each participant should carry out an individual project based on a real-life problem/data
Program Schedule:
Course duration: 3 months
Program Commencing from 24 August 2013

Classroom session schedule in MUmbai on SAT and SUN is as given below.
Session 1: 10.00 AM to 11.30 AM
Session 2: 11.45 AM to 1.15 PM
Session 3: 2.15 PM to 3.45 PM
Session 4: 4.00 PM to 5.30 PM
Conducted at Aegis School of Business and Telecommunication
Mahesh, Plot No.37, Sector 15, Central Business District (CBD), Belapur
New Mumbai, MH, 400614, India

Contact
Office of Admission Processing
Aegis School of Business and Telecommunication
Cell +91 9819008153
Phone: +91 (0)22 32185553|
Email: [email protected]
For more information: www.aegis.edu.in
www.iimranchi.ac.in