Executive Master's Program in Telecom Management (E-MPTM)
Program Overview

Aegis is the first in the country to offer an Executive Master's Program in Telecom Management (EMPTM).
A Master's Program in Telecommunication Management (MPTM) is commonly known as MBA Telecommunication in India and MS in Telecommunication Management in the US, and is designed to develop cross-functional skills crucial for a telecom leader. It will enable you to become the future technology manager, able to make decisions with all the aspects involved in the telecom business in mind. It also addresses your individual needs to improve specific functional skills imperative to your domain of expertise through the range of electives.

Aegis EMPTM course curriculum was developed with inputs from telecom companies such as Bharti Airtel, Qualcomm, Siemens, Huawei, Amdocs, ZTE, Cisco, GTL, Reliance Communication, Alcatel Lucent, Wipro, TCS, BSNL, etc. to meet the needs of India's future telecom leaders and managers. EMPTM candidates develop broad knowledge in telecom business, technology and communication disciplines as well as a depth of knowledge in specific areas chosen to best fit their career aspirations.
Learning Objectives
- Gain a clear picture of the telecom market and its future direction with forecasts, timelines and regional analysis.
- Prepare yourself for boardroom and learn the realities behind senior management decisions.
- Develop cross functional skills for leadership roles.
- Gain skills to design networks, establish or influence policy, make technology adoption and standard decisions, create cost models for new investments, and grasp the organizational and user implications of networking systems.
- Understand techno-commercial decision making.
- Know of the latest telecom technologies and business like NGN, VAS, Managed Services etc.
- Attain a solid platform on which to make strategic, technical, financial and management decisions that are reliable, well grounded and commercially viable
Program Highlights
- Best faculty from across the world; 20% of lectures delivered by international faculty
- Interaction with India's education thought leaders
- Leadership speaker series with top telecom leaders
- Program available in Hybrid as well as Online Models
- Globally accepted credit unit based model equivalent to any internationally recognized Master's Degree
- Successful completion of EMPTM enables PhD admission in international universities
- First Institute in the world to launch mMBA on Tab
- The best Telecom Management program in India
- Small class size
- Designed to meet the needs of global business
- Access to video lectures including complete LMS on Tablet
- International exchange program with Telecom Ecole De Management School in France
- Industry Academic Partnership with CanvasM Technologies Limited for Full time, Part Time, Certification and Conferences in Telecom Management, Enterprise Mobility, Social Media, Marketing/ Digital Marketing, Business - Analytics/ Big Data, and Cloud Computing.
Participants' Profile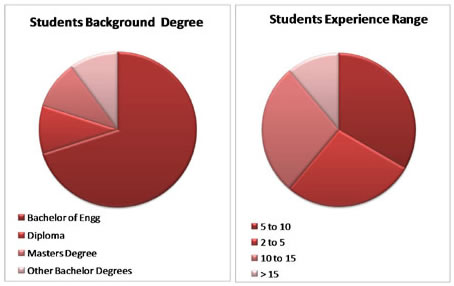 Career Opportunities
Telecom Industry snapshot: World wide
- Total Global Subscriptions is 6 billion, likely to exceed 7 Billion in 2013
- Total Global Mobile Revenues to hit $1.5 Trillion in 2012, over 2% of Global GDP, 21% of all patents granted in US are mobile related.

Telecom Industry snapshot: India
- World's second-largest mobile phone users base with over 950 Million-
- World's fourth-largest Internet users with over 121 Million
- World's most competitive and one of the fastest growing telecom markets.
- The industry reached a size of 344,921 Crore (US$65.53 billion) in 2012 at a growth rate of over 26%.
- Telecom Industry generates revenue over 3% of India's GDP
Fields:
- Mobile Application Development
- Enterprise Mobility
- Cloud Computing
- Social Media Marketing
- Cyber Security
- LTE
- Managed Services
- Business Analytics & Big Data

Career In:
- Telecom Market Research
- Digital Marketing
- Media Marketing
- Enterprise Sales
- Enterprise Mobility
- Solution Architecture
- Pre-Sales
- Project and Program Management
- Business Consulting and Telecom Consulting
- Telecom Subject Matter Expertise
- OSS/ BSS Consultancy
Sample companies where Aegis students are employed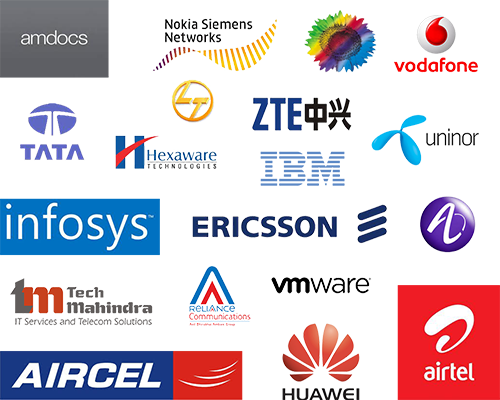 Program Structure and Delivery Models

Aegis is offering a very unique hybrid learning model of "Block Week" with on-campus classroom training and alternate Sunday online streaming video lectures. This model is designed to keep in mind the busy and dynamic job schedules of working professionals. It has been observed that attending weekend classes becomes difficult for senior executives over a longer period and this problem has been given a unique and popular solution at Aegis.

Duration: 11 months

Hybrid Model: One Block of 5 days in the interval of 4 months spread across the year with on-campus class room training + live streaming video lectures on alternate Sundays (candidates living in Mumbai have an option to attend alternate Sunday classes on-campus as well).

Total 3 Block Weeks of 5 days each
20 Alternate Sunday Sessions
Total Session: 38 days
Online/ Distance Learning Model (mMBA model): Access live and on demand video lectures Anytime Anywhere on your Tablet, Laptop or Desktop. Participants will have access to the world's best Learning Management system.

Delivery Tools
- Case Studies
- Live Consulting Projects
- Classroom Training
- Online & On Demand Video Lectures
- Presentations
- Leadership Series
mMBA Launch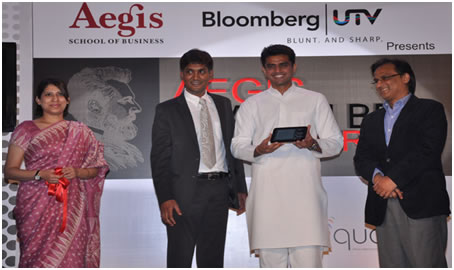 Shri Sachin Pilot (Hon'ble Minister of state for Communications & IT) unveiling World's First mMBA on Tab by Aegis.
Accompanied by Mr. Bhupesh Daheria, CEO, Aegis, Mr. Prakash Bajpai, CEO & MD,Tikona Digital Networks and Ms. Kasturi Bhattacharjee, Associate Director, PricewaterhouseCoopers (PwC)
Aegis Advantages

Academic Association with Telecom Ecole de Management (among the top ten Business Schools in France) and with Spears School of Business at Oklahoma State University (OSU), US. Aegis students can do part of study under student exchange program at Telecom Ecole de Management in Maisel campus in Paris and OSU in Stillwater campus in US.
Top B. School for MBA / MS in Telecom Management: Aegis School of Business and Telecommunication is among the top three schools offering MBA/ MS / PG in Telecom Management in India. Programs in Telecom Management are offered by only 23 Universities across the world.
Consulting and Finest Teaching: We are a truly global consulting Business & Telecommunication management school. We have the right mix of top academicians, practitioners, telecom leaders and first generation entrepreneurs as our professors. Most of them are engaged in core telecom technology, business and also in consulting to Corporate, NGO's, Government bodies, World Bank etc. This offers you immense opportunity to work with our professors beyond the class room, on different live consulting assignments and acquire the vital skills needed for success in life, corporate world and entrepreneurial ventures.
Financial Aid is available in the form of scholarships, work assistance-ships/ assured part time jobs through which you can earn a substantial amount to defray the cost of the course. Major Indian banks also offer study loans.
Global Corporate Connections: Aegis MPTM program was developed to create Future Leaders with the help of top firms such as Reliance Infocom, Bain, Bharti - Airtel, Qualcom, GTL, Nortel, Cisco, Oracle, Accenture, Boston Consulting Group (BCG), Ernst & Young, Deloitte Consulting, BSNL, Vodafone, Tata Communication, Huawei, Nokia Siemens Networks, TCS, Wipro, Orange, HCL etc.
Placement and Live consulting assignments & internships: Some of the top firms that have employed Aegis alumni are: The Clinton Foundation, Ernst & Young, Bharti - Airtel, Tata Communications, Tata Indicom, Reliance Communications, Vodafone, Idea, VSNL, GTL, Nortel, Ericsson, Nokia, Cisco, Siemens, Leadcap Ventures, Lucent, Avaya, Org Telecom, ZTE, Huawei, Nokia Siemens Networks, TCS, Wipro, Orange, HCL, etc.
Small Class Size: At Aegis you do not study in large classes where you feel lost, and faculties do not know your name. Researchers have found that gains in achievement are multiplied generally when the class size is less than 20 students. Aegis has a small class size, which both facilitates a collaborative and discussion-oriented classroom atmosphere and strengthens your relationship with faculties and the peer group.
Learning Management System (LMS): LMS is designed to manage the learning experience at Aegis. It helps candidates to access lectures on demand at their convenience. Full access is provided on campus via the school's intranet as well as the internet. The resource consists of all the study materials in PPT, Word and html format. Streaming audio and video lectures integrated with PPT of live class room lectures are available on LMS (mUniversity)
Global Credit Hrs System: Globally accepted Credit hr based model. Aegis MPTM/ MBA/ MS in Telecom Management is a 54 credits hrs program equivalent to any internationally recognized masters degree.
Work assistance-ship commonly known as Part Time jobs to all selected and enrolled candidates for MPTM program. Part Time jobs are available with Aegis School of Business and other partner companies like Jaina Systems, Inner Circle, LeadCap Ventures, Aspirtek and Bach Connections. Candidates need to work for 15 hrs a week and they get Rs. 5000 to 10,000 per month.
Industry Academic Partnership with CanvasM Technologies Limited for Full time, Part Time, Certification and Conferences in Telecom Management, Enterprise Mobility, Social Media, Marketing/ Digital Marketing, Business Analytics/ Big Data and Cloud Computing
Aegis Graham Bell Awards and Scholarships as a tribute to father of the telephony, Sir Alexander Graham Bell to identify the talented students who can contribute in the field of Time (Telecom, Internet, Media & Edutainment) through their innovative ideas and/or competency to convert an idea into a reality
We recommend you to email you CV at [email protected] with "Part Time E-MPTM" subject line for pre-screening of your profile before you start your application process.

Download the Application Form in Word

Apply OnlineClick here for applying online

If you need any help in processing your application, please get in touch with Aegis's admissions offices:

Raashmika Das
Head Executive Education and Admissions
Phone: +91 22 32185553 Cell: +91 9819008153
Email: [email protected], [email protected]