Two year MBA
Aegis School of Business offers two year MBA program which is a AICTE-UGC -DEC joint committee approved program. Aegis exposes you to the thought leaders of international management. Free from the constraints of ordinary education, Aegis is designed for you and around you - tailored to your individual needs.
In a world of open-borders and open-markets, a global perspective is necessary to succeed. Aegis is the most international school in India with a substantial component of overseas students and faculty. We bring business and industry into the campus. Our faculty has strong industry backgrounds and includes experienced practitioners as well as academics.
In common with top program, our two year Full-Time MBA program is designed to accelerate the careers of young, motivated professionals impatient to achieve success with multinationals, start-ups or family businesses. You will learn all the critical skills necessary to assume a top-level position.
Aegis School of Business's Two year MBA is a transformational experience, both personally and professionally. It equips you with the skills, knowledge and networks to propel your career wherever you decide to take it.
The program allows you to balance a demanding career and personal commitments with a 24-month period of intensive study and professional development. You select electives from a wide range to specialize in Entrepreneurship, Finance, Management Consulting, Marketing, Telecom , HR, Operations, IT etc.
Taught by world-renowned faculty, you benefit from the diverse perspectives of peers from a wide variety of nationalities, job functions and industry sectors.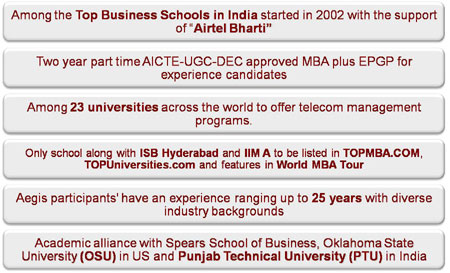 Academic Alliance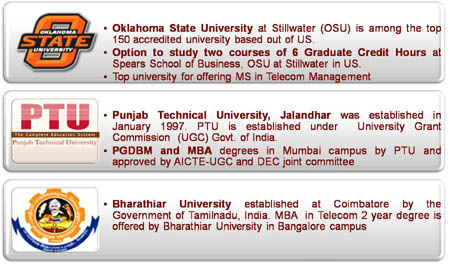 Aegis Advantages
Learning Objectives
Program Highlight
Best faculty from Across the World
20% of the lectures will be delivered by international faculty
Two Week Program to Obtain 6 Graduate Credit Hours from Spears School of Business at Oklahoma State University (OSU) in US
India's education Thought Leaders
Globally accepted credit hrs based model
Leadership speakers series of top leaders.
Phd admission in international universities after this program
Live consulting
Small class size
Develop cross functional skill required for leadership role
Designed to meet the needs of global business
Developed with the help of leading Indian and multinational firms
Balanced instruction of the theoretical and practical
International exposure
Specializations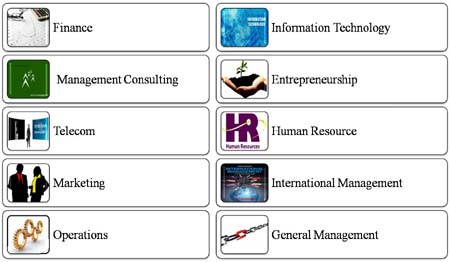 Participants' Profile
Sample compnies where Aegis students are employed
Eligibility Criteria

For two year MBA program experience is not mandatory so even fresher candidate can also apply.
Aegis accepts various test scores like GMAT, GRE, CAT, CMAT, XAT, MAT, SNAP, CET or Basic Aptitude Test for Employability (BATE). Candidates aspiring to take admission for Two year MBA course are required to send resume at [email protected] with subject as Two year MBA for pre application screening.
Download the Application Form for 2 Year MBA in Word
Two Week Program to Obtain 6 Graduate Credit Hours Program at Spears School of Business at Oklahoma State University (OSU) in US

Program Length
The proposal is for a 14 day program for two consecutive weeks.
Six Credit Hours from Oklahoma State University
Two courses would be taught during the 2 week visit. There would be pre-work and post-work associated with each of the courses in order to obtain the 6 credit hours, which would include distance learning as well as face to face coursework when students are on the Stillwater campus. Course topics are yet to be determined and we would work in partnership with Aegis to decide what courses we could offer.

Business and Cultural Visits
Besides class sessions, the students would travel to Dallas, Texas for a weekend business and cultural trips—potentially visit telecommunications companies in Dallas and experience some of the culture.

Each session would have a welcome reception and orientation and a luncheon prior to the group departing.

Housing
Graduate students would stay in an apartment, two people per apartment. The apartment furnishes towels, linens, bedding, and washer and dryer. Kitchen facilities are available to cook in the apartments so students may save money by buying their own food and cooking it on-site.
Transportation
OSU has a bus transportation system in Stillwater which students may access to go to stores and travel to campus (although campus is within walking distance of the apartments).
*You will also have an option to complete 24 credit hrs ( 8 courses ) at OKLAHOMA STATE UNIVERSITY (OSU) in US. The final Masters of Science in Telecom Management degree will be awarded by OSU.

View the two course and faculty details conducted at Oklahoma State University (OSU).

Features
a) Academic Association with Oklahoma state University:Under academic association with Spears School of Business at Oklahoma State University (OSU), Aegis students can also do part of study at OSU in Stillwater campus in US.

b) Top B. School in Telecom Management: The Aegis School of Business and Telecommunication is among the top three schools offering Telecom Management Programs and top five one year MBA programs in India. Programs in Telecom Management are offered by only 23 Universities across the world.

c) Dual Program Option: Candidates have the option of doing additional program i.e. MPTM along with the main program MBA by finishing extra credit hrs of MPTM.

d) Consulting Business School and Finest teaching:
We are a truly global consulting Business & Telecommunication management School. We have the right mix of top academicians, practitioners, telecom leaders and first generation entrepreneurs as our professors. Most of them are engaged in core telecom technology, business and also in consulting to Corporate, NGO's, Government bodies, World Bank etc. This offers you immense opportunity to work with our professors beyond the class room, on different live consulting assignments and acquire the vital skills needed for success in life, corporate world and entrepreneurial ventures.
View panel discussion video on "How to select a Business School" on you tube by World MBA Tour click here to view

d) Financial Aid is available in the form of scholarships, work assistance-ships/ assured part time jobs through which you can earn a substantial amount to defray the cost of the course. Major Indian banks also offer study loans. Alxander Graham Bell Scholarship

f) The most International School in India: We celebrate the most diverse community. Aegis is the most culturally diverse school in India with over 30% of the class strength being made up of Study Abroad. Many of our participants have 15 years or more of work experience and are from diverse industry backgrounds.

g) Global Corporate inputs: The Aegis E-MBA program was developed to create Future Leaders with the help of top firms such as Reliance Infocom, Bain, Bharti - Airtel, Nortel, Cisco, Oracle, Accenture, Boston Consulting Group (BCG), Ernst & Young, Deloitte Consulting, etc.

h) Placement and Live consulting assignments & internship: Some of the top firms that have employed Aegis alumni are: The Clinton Foundation, Ernst & Young, Bharti - Airtel, Tata Communications, Tata Indicom, Reliance Communications, Vodafone, Idea, VSNL, GTL, Nortel, Ericsson, Nokia, Cisco, Siemens, Leadcap Ventures, Lucent, Avaya, Org Telecom, ZTE, Huawei, Nokia Siemens Networks, TCS, Wipro, Orange, HCL, etc.

i)Small Class Size: At Aegis you do not study in large classes that you are lost and faculties do not know your name. Researchers have found that gains in achievement are multiplied generally when class size is less than 20 students. Aegis small class size, this both facilitates a collaborative and discussion-oriented classroom atmosphere and strengthens your relationship with faculties and the peer group.

j) Learning Management System (LMS): LMS is designed manage the learning at Aegis. It helps candidates to access the lecture on demand at thier convinence. Full access is provided on campus via the school's intranet as well as intenet. The resource consists of all the study materials in PPT, Word and html format. Streaming audio and video lectures integrated with PPT of live class room lectures are avilable on LMS. view some sample lectures
Application Process

1. Email you resume at [email protected] for pre application screening.
2. Complete Application Form
Apply OnlineClick here for applying online
3. Admission Processing Fee of Rs 1000 as DD in the name of "Aegis School of Business", payable at Mumbai
4. Two Recommendations
5. Interview
6. Offers Extended
7. Registration & Fee Deposit

If you need any help in processing your application, please get in touch with Aegis's admissions office at +91(0) 9819008153/ 9820870483/ +91 22 32185553
Email: [email protected] or Skype: aegis.school.of.business