Aegis Consulting and Research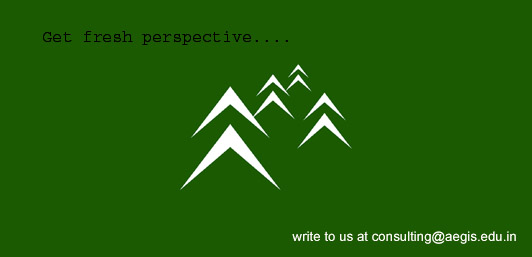 Aegis Consulting & Research is a consulting wing of Aegis School of Business. We help in finding solutions to the problems currently confronting your organisation. Get a fresh, multi-disciplinary and multi-cultural perspective on any challenge or opportunity your business is facing from our high calibre faculty and student consulting teams. We work collaboratively with our clients, employing the latest business thinking, analytical tools and project management techniques to ensure all engagements are concluded effectively and without budget risk.

Our flexible resources and diverse backgrounds allow us to undertake a wide range of projects, from market entry strategies, new markets, develop business plan, need strategy consulting, develop new product, or improve your management of teams, strategic planning and benchmark analysis, to operational process improvement and organizational change.

We will deliver rigorous analysis, fresh insights, and implementable solutions for your current business challenges. You will receive practical recommendations in the format you require.

Aegis - Leadcap Consulting
Aegis-Leadcap Consulting is a joint initiative of Aegis and LeadcapVentures. LeadCap Ventures is a leading global firm in market research, analytics and consulting. It helps clients solve some of their toughest marketing and sales problems – using best of breed people, information sources and technological solutions. A testimony to the fact that its clients and partners spread across 65 countries across the world.
Leadcapventures has clients like Airtel, Reliance Communications, Vodafone, MTN, Tata Docomo, Ebay, Yahoo, ESPN, Uniliver etc.

Examples of services we can provide for your business include:
Primary market research (interviews, phone surveys, email surveys)
Secondary market research (statistical databases)
Business/ Management Consulting training
Competitor analysis
Brand/Product Perceptions
Creative Development Research
New Product Development
Brand Positioning
Brand Image Insights
Pack Label Research

Feasibility study
Financial statements (income statement, balance sheet, statement of cash flows)
Financial projections with sensitivity analysis
Financial ratio analysis

Start-up business plan
Presentation to investors
Growth business plan
Marketing plan
HR development plan
Presentation to executives
Business Plans
Feasibility Studies
Financial Planning
Competitor Analysis
Customer satisfaction measurement
Training needs assessment
Marketing Strategies
Promotion Strategies
New Product Testing and Launching
Startup advising
Knowledge management
ERP implementation
Market-Industry Research
Business intelligence
Internet marketing
New product development
Telecom Expense Management
Developing Business Case
Managing venture funds
Getting Started with Aegis's Business Consulting
From our initial contact with a client to when the final results of the project are realized, the Aegis Business Consulting process allows our consultants to develop unique strategies to address the issues facing your business. Each project our firm undertakes follows a straightforward 5-step process:

1| Submit Questionnaire
We ask that you start our consulting process by providing us with some quick details about your business and the challenges that you are facing. This survey will give us a better idea of your current situation and your goals for the project before assessing the best way we can work with you. (Start the process here download the Client Questionnaire)
2| Client Interview
Once the questionnaire has been received, an interview will be arranged at Aegis's campus or at your company location, or by telephone. This will be your opportunity to ask further questions about our process and expertise, and our opportunity to gain further details regarding your unique situation.
3| Accept Proposal
Within a week of the interview a formal proposal will be submitted to you from the Aegis Business Consulting consultants. This proposal will contain a project plan, timeline for completion, as well as associated costs. We work with each client to tailor our services and match your budget.
4| Receive Report
By working with you throughout the consulting process, our consultants create results that are customized for your specific business, industry and challenge. After a Aegis Business Consulting team has conducted the required work to fulfill your project requirements, they will report their findings to your company team complete with all key deliverables.
5| Realize Results
When developing final recommendations for your company, Aegis Business Consulting always keeps results top-of-mind.
Leadcap Current Clients