Campus
The campus is located in New Mumbai, which is a scenic extension of Mumbai. A number of Indian financial institutions have headquarters in downtown Mumbai, including the Bombay Stock Exchange, the Reserve Bank of India, the National Stock Exchange of India, the Mint, and numerous conglomerates (the Tata Group, Godrej and Reliance etc).
Mumbai is the commercial capital of India.
Mumbai contributes 10% of all factory employment.
40% of all income tax collections.
60% of all customs duty collections.
20% of all central excise tax collections.
40% of India's foreign trade
Rupees 40 billion (US$ 9 billion) in corporate taxes.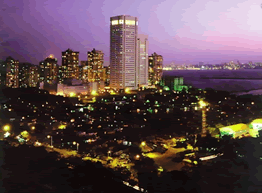 Infrastructure
Learning Resource Centre (LRC)
Aegis has invested heavily in providing extensive learning support. We are continually updating and developing our traditional library, e-resources and other resources within our technologically sophisticated LRC. The LRC has Learning Management System (LMS) and Content Management System (CMS), which enables students to gain optimum benefit from the resources available.
Digital Library
Full access is provided on campus via the school's intranet. Selective access is provided through the Internet to our digital library. The resource consists of all the study materials in advance in soft copy (HTML, Word, e-books, audio books), Streaming Audio and Video Lectures integrated with PPT. Online and print subscriptions provide major industry and business magazines, for example: Harvard Business Review, Business Week, Voice & Data, Total Telecom, as well as the major Indian and international business newspapers and journals.
View online Aegis Personal Learning and Training System at: http://www.aegisedu.org/mptm/s04b03t01/courses.asp